LS96 Milking Parlor
Manufactured to operate smoothly and withstand the daily rigors of heavy use, the Zimmerman LS96 Milking Parlor is designed for mid-size to small dairy farms where the operator is comfortable with close contact with cows. It makes milking easier through it's automatic features that allow the cows to milk at their own pace.
"Since installing a Zimmerman Step-up Parlor several years ago, we have learned to appreciate the ease with which cows enter and exit..."Click to read more about the Kauffman's opinion of the Milking Parlor.
More comfortable milking means your cows will thank you with higher milk production! See the Milking Parlor's versatile operation in the short video at right.
For more details and specifications see Manual.
Walk-Through Milking Parlor Features
Unique latch system keeps doors in unlocked position until cow has exited. Operates by direct pull rod linkage. Manufactured with brass bushings on rocker arm assembly.
Cam balanced spring that automatically positions door to receive next cow.
Doors operated by cross link tie rods.
Smooth, quiet operations with UHMW synthetic bushings on the door hinges & soft rubber bumper used on the stops.
Heavy duty frame manufactured with 3 x 1 1/2 x 3/16 tubing.
Brass ball joints on all rod linkage.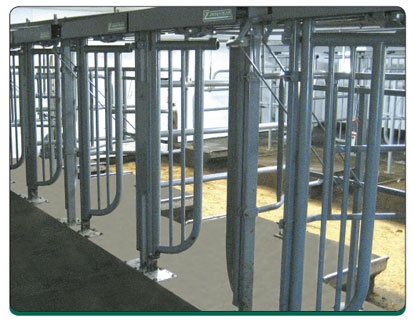 The LS96 Walk-Through Milking Parlor supports all milking systems with equipment racks that conveniently adjust to accomodate any milking unit.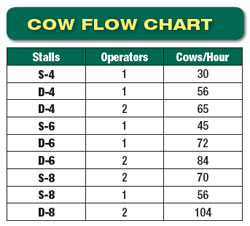 ---
Configurations For Barns
The LS96 Walk-Through modular units conveniently make any number of popular configurations in existing barns or new construction. Posts generally work into designs without creating problems.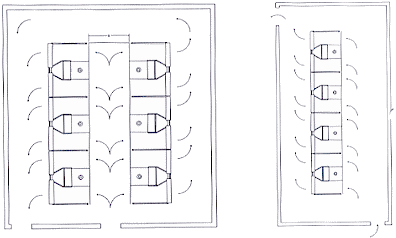 ---
Optional Accessories
Anchor Channel Kit
Part #LS96PCAC

Stainless Steel Curb 30"
Part #LS96SSCU30

Seat Kit
Part #LS96SE