TRUCK DISINFECT SYSTEM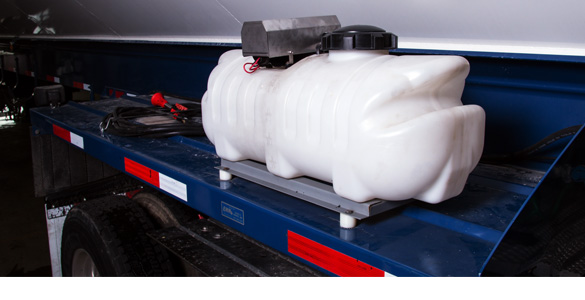 The Truck Disinfect System is a sanitation, biosecurity kit engineered to provide optimal spraying capabilities. It helps to prevent the highly pathogenic avian influenza (H5N2) and other animal diseases and to control the threat of infection.

While currently branded under our CropCare label, our Truck Disinfect System integrates many of the necessary common components to apply disinfectant to the tires when approaching and leaving a farm. The optional spray wand allows application of the disinfect to the truck body and undercarriage when required. The system is easy to use and effective for commercial vehicles serving the intensive animal production industries.
Download PDF

Disinfect System Kits:
| | |
| --- | --- |
| DS-25 | Disinfect System Base, 25 Gal Tank, 5.3 GPM Pump, Suction Filter, and Inline Filter Assembly (does not include mounting brackets or wiring harness) |
| DS-TR | Disinfect System Trailer Plumbing Kit (2 Tandem Nozzle Assemblies, 1 Check Valve Assembly, Hose, other related hardware) |
| DS-TK | Disinfect System, Tractor/Straight Truck Plumbing Kit (2 Tandem Nozzle Assemblies, 2 Steering Axle Assembly, 2 Check Valve Assemblies, Hose, other related hardware) |
| GK50DS | Disinfect System Gun Kit (Arag High Pressure Spray Gun, 50 ft. Hose, other related hardware) |
Components in our Truck Disinfect System are engineered to work together, making it ideal for maintaining bird biosecurity per protocol recommended by the USDA and the Pennsylvania State Department of Agriculture. Our pre-engineered kit saves you the time required to build a custom system. This enables you to equip or upgrade your trucks quickly with confidence and less aggravation.