Farm Equipment Manufacturing and More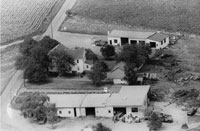 Paul B. Zimmerman opened up his small 40'x60' farm repair shop in 1947. His reputation quickly grew and he expanded his shop several times in the 50s and 60s. His welding and repair shop also became a parts store; as he bought his parts in bulk, farming neighbors began stopping by his more conveniently located shop to purchase items. His six sons grew and took an increasing part of the business; the parts area expanded to a separate hardware store that eventually moved a mile down the road and became PaulB LLC. The barn equipment they fabricated for local dairy farmers grew into a full-fledged operation with dealers across the United States. It grew large enough that in 1986 they built a new separate powder coating plant, Keystone Koating LLC, to coat the barn equipment that became Zimmerman Cattle Control.
The "shop", as it is still known, grew into PBZ LLC, a full-fledged fabrication/manufacturing Steel Service Center. Paul's homemade truck cranes from the 60s gave way to a purchased 10 ton crane and a 28 ton crane; two industrial 3D tube-cutting lasers were added, and retail sales of steel, aluminum, and other metals.
Paul died in 2006; today his six sons and increasing numbers of owner grandsons and other key employees are occupying key positions in the various companies, which are all placed under the umbrella company of Paul B. Zimmerman, Inc. For more information visit www.pbzinc.com.
Zimmerman Cattle Control is part of the Paul B. Zimmerman Inc. companies, a family-owned and operated business since 1947, that also includes PaulB hardware stores.