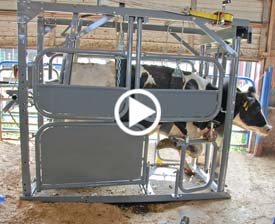 Zimmerman Hoof Care Chutes stand out as top quality cattle chutes.

The new HVC12 Hoof Care Chute retains the advanced features of the earlier HCC2008. This chute is so well engineered that veterinarians recommend using these chutes for Hoof Trimming, Breeding, Palpation, and many other Veterinarian procedures.
Remember that a chute of this quality is not simply an expense, but an investment that pays dividends by allowing dairy farmers to be more proactive in managing the health of their cows. See Manual.
Click picture to see video of the HVC12 in action.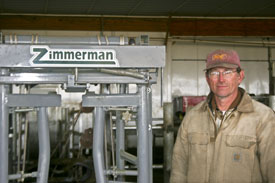 Bruce Hatfield of Scipio Center, NY recommends the HVC12. "When we were designing our new robot barn, one thing I said we wanted is a Zimmerman Cattle Chute. It´s a quick and easy way to restrain a cow for things like foot work and DA surgeries."
Find out why vets recommend Zimmerman Hoof Trimming Chutes!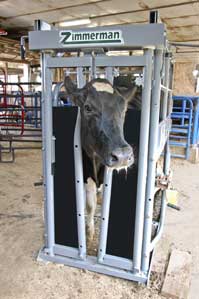 Front and back belly straps for animal stability
Zimmerman Automatic Locking Head Gate (can be bought separately).
Anti-skid Rumber™ floor for safe footing
Positive Action winches for more reliable operation
Picks up feet safely for easy Hoof Trimming and care
Four indendently opening Side Panels (2 high, 2 low)
Durable powder coated steel frame
| | |
| --- | --- |
| The rear leg lifter is operated independently from the rear gate for extra stability. The rear gate is also adjustable for a wide range of animal sizes. | Front hoof lifting is an easy, efficient operation. |
Contact us for more information.